Shoes, Boots, Sneakers… you name it! Now in stock, ready to be ordered and produced in less than 1-week.
What is 'Fast-Lane'?
'FastLane' is our blazing fast 1-Week rapid manufacturing service for individual (single) MTO orders, the perfect counterpart of our Standard MTO service (4 weeks avg. lead time). Goodyear welted customized shoes in less than 1 week, including hand painted patina textures and burnish finishing.
And now, we would like to announce that have extended our Fast-Lane offer to include the following new 14 shoe styles. All of them are now in stock, and ready to be ordered!
Who is 'Fast-Lane' for?
We came to realize that lead time can be a limiting factor to our clients. 'Fastlane' is meant to help in situations like important events like weddings, etc. As a matter of fact, 'Fastlane' service will be helpful in any situation where lead time comes first on priority list, even if it means sacrificing a few customizing features.
'Fast Lane' orders are produced up to 4 times faster than standard MTO orders, and are constructed using the same processes and materials, including our hand painted patina and burnishing.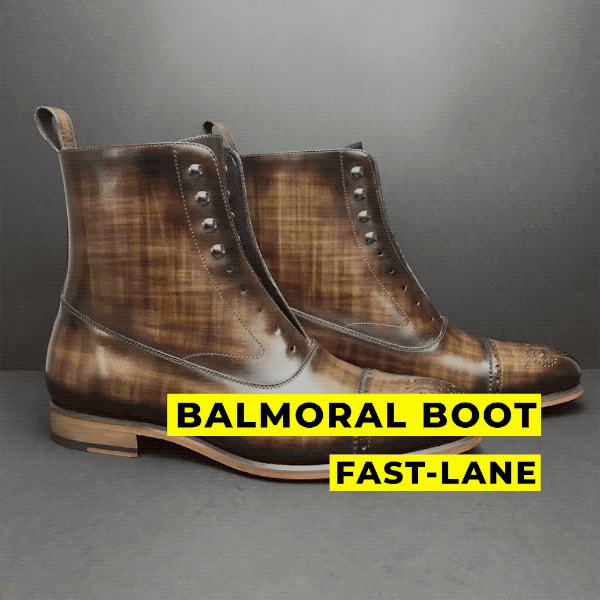 How does it work?
To accomplish the glazing fast service time of just 1 week, 'Fastlane' shoes are partially pre-produced on our side, and kept in-stock in our warehouse. You get access to the 'Fastlane' platform, where you can review real time stock and place orders, which will be completed in just 1-week after the purchase.
Understandably, 'Fastlane' orders cannot be designed with the same customizing options as standard MTO orders. Since the stock is pre-produced, you are strictly limited to a few choices, including upper color / patina texture, sole color and shoe laces color. A small sacrifice on the personalization side, since you will be able to order Goodyear Welted shoes to be produced in just 1 Week!
How to order?
Look for the 'Fastlane' category on our 3D designing platform! Styles available for Fast-Lane production are dynamic, that is, they will change over time based on the stock available and our current styles offer. We will be periodically replacing the stock, and adding new shoe styles to the Fast Lane collection, please, stay tuned in on this category.
Stock is monitored in real-time to make sure all 'FastLane' orders are produced in just 1 week. Actual stock quantity for each particular style can be checked using the "Check Stock" button.  We created an automated backorder replacement system to prevent out-of-stock issues. Unfortunately, if the stock widget says "Out of Stock" for a the particular style and size combination, you won't be able to submit the order to production. In that case, please, wait until the style is back In-Stock to place the order.
The design and checkout process is the same as in standard MTO orders.
Leave a comment